We choose quality! That's why you should choose us!
We specialize in comprehensive repairs of hydraulic components of major tool manufacturers such as: Rexroth, Hydromatik, Poclain, Linde, Sauer, Parker, Vickers and many others.
Once a failed pump or motor gets delivered to our workshop, our experts start the verification assessment to identify causes of pump or motor failures and what items require repairs or replacement. For proper pump and motor components history repair track, each item receives an identification case number.

Upon diagnosis assessment, our customers receive a repair quote, explaining type of repairs needed components replacement, anticipated repair time and proposed budget. While preparing an offer for repair, the data plate plays a vital role. Therefore, it should be placed on the delivered component, or the customer ought to provide us with it.
The data plate helps our suppliers recognize the unit quickly and quote the spare parts for the repair. The cost and duration of the unit repair depends on the level of component damages and the availability of spare parts in the warehouse. We distinguish some types of repairs: the main repair, the current repair or a pump inspection with the seal kit replacement.
At the customer's request, we also provide a basic repair which helps remove defects of the unit. However, no guarantee is given when choosing this option.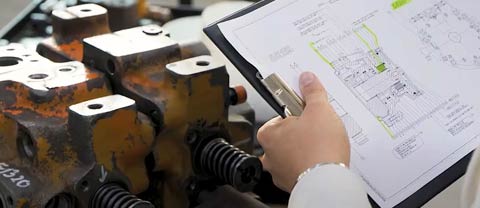 Types of repairs
We distinguish some types of repairs:
a pump inspection with the seal kit replacement
After each repair, the components are checked on the test bench. The test proves the unit correctness. The customer can always get the report of the test.
Regarding the units repair, various factors differentiate our brand from the competition:

The verification of the hydraulic unit is carried out once it has been delivered to our workshop. (the appointment needs to be scheduled earlier) .

Since our warehouse with reman Liebherr or Fuchs units is well stocked, the customer may obtain a reconditioned hydraulic unit at once. Your defective unit becomes the property of SMB HYDROMAR MARCIN MOSTOWIK.

Same-day repair option available.

Free of charge verification service at the Supplier's premises for loyal customers.

We work with various courier copmanies. Thanks that the parcels are delivered quickly. We can also order the courier to pick up the parcel from the customer and deliver it to our premises.